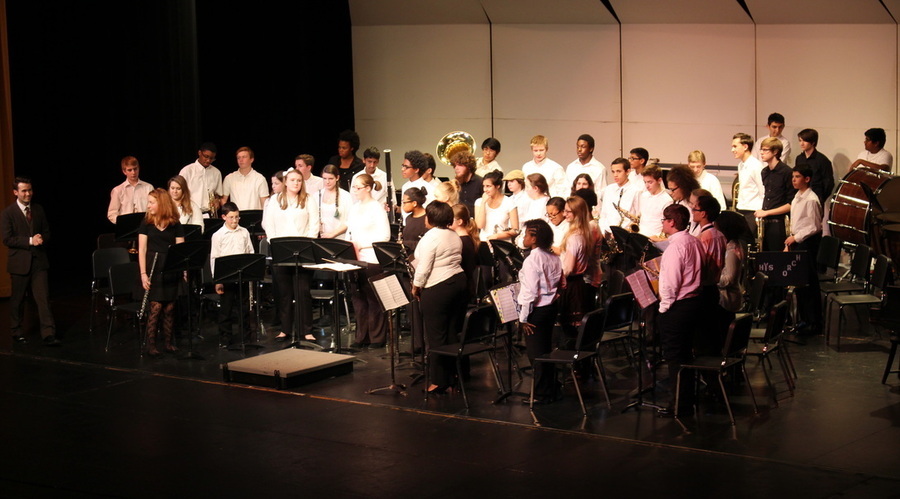 Music Department
Overview
The Department of Music at Washtenaw International High School consists of instruction in voice, strings, band, and IB Music through a combination of curricular music ensembles, clubs, and enrichments. The WIHI music program was established in 2011 by the Washtenaw International High School in conjunction with music teacher Brooke Pierson.

WIHI music courses focus on music skill building through performance and study of music. Enrolled students will develop strong instrumental technique while studying and applying elements of music theory, music history, and music composition. Students will perform multiple concerts; engage in solo and chamber performance and develop skills in critical listening.
Points of Pride:
40% of our students participate in MSBOA solo and ensemble (with more than 60% of those students receiving a Superior rating)
70% of our students audition yearly and are offered scholarship for Blue Lake Fine Arts Camp
"Octavate" a cappella ensemble performing at the regional a capella competition as semi-finalists
WIHI composers for three years in a row have been selected as winners of the Michigan Music Education Association (MMEA) composition competition
WIHI String Orchestra premiere of "Divertimento for Strings" by WIHI composer Clayton Riegger at the 2016 Michigan Music Conference
2015 100% pass rate on IB Music Exams
Nearly than 50% of the WIHI population are enrolled in music courses
New students interested in the WIHI Music Program
Students new to WIHI and interested in the WIHI Music Program
The WIHI Music program is open to ALL students who demonstrate basic abilities on a band/orchestra instrument or as a singer. Students without prior instrument experience are welcome to join the WIHI choir or seek another route to join an instrumental group. Contact Mr. Pierson with any questions.
Auditions
Some advanced ensembles require an audition for admission. Auditions are not required, however in order to be considered for placement in higher level ensembles you must successfully complete the audition. Please visit the Audition Page for more information and to schedule an audition.
If you choose to not audition, you will be placed into the entry level ensemble and have the opportunity to re-audition the following spring.
More About the WIHI Music Department
Curriculum
The curriculum is designed to align with the IB Diploma Program and Michigan Merit Curriculum requirements.

Music instruction at WIHI is offered through performance courses, academic courses, and extracurricular clubs.

The objectives of the WIHI Music Department are for students to:
Be proficient on an instrument or voice
Perform individually at a high level
Perform collectively in an ensemble at a high level
Demonstrate a strong understanding of musical concepts, music theory, and music composition
Demonstrate an ability to critically evaluate performances (including those of themselves and their peers)
Represent WIHI to the student body and community
To provide each member with knowledge of music, so that he/she may enjoy, understand and participate in the aesthetic experience relayed through music making
To assist each member in fulfilling the mission statement of Washtenaw International High School
To exemplify characteristics of the IB Learner Profile
Co-Curricular Ensembles:
Concert Choir
Chamber Choir
Vox Humana
String Orchestra
Symphonic Band
Concert Winds
Wind Ensemble
Co-Curricular Ensembles are taught during the school day. Students will receive instruction specific to their ensemble and instrument type. In addition to coursework designed for performance there will be instruction and assessments in academic areas of music study, including but not limited to: Music Theory, Music History, Aural Skills, and Music Composition.

Music Department curriculum includes required performances at a variety if venues. Currently, the WIHI Music Department holds concerts at the Saline High School Ellen Ewing Center of the Performing Arts. The WIHI Music Department performance calendar consists of 4 large programmed concerts each year. In addition, ensembles may have extra performance opportunities including (but not limited to) capstone concerts, festivals and other public events.

Extracurricular Ensembles:
Jazz Lab and Jazz Ambassadors
Chamber Club
Octavate​
Extracurricular Ensembles are held as after school clubs. Participation in a Curricular Ensemble is required in order to enroll in an extracurricular ensemble.*
These ensembles will perform at various events throughout the school year.

*Exceptions may be made for special circumstances.

Academic Music Study
IB Music courses will be offered to students in their junior year. Diploma Program music courses are an in-depth study of music theory, music composition, world music and Western European music history. Students will develop advanced skills as musicologists, performers, and composers. All IB music students will develop a portfolio of original compositions and recital recordings as well as complete a written musical investigation of cultural music.

Specific questions may be directed to Mr. Pierson at bpierson@wihi.org
Brooke Pierson
Fine Arts Department Chair
Instrumental Music, IB Music

Brooke Pierson teaches band, strings, IB Music, and is fine arts department chair at Washtenaw International High School and Middle Academy. Having taught throughout the state of Michigan, Mr. Pierson began his position at WIHI for the inaugural 2011-2012 school year.

Mr. Pierson received his B.A. in Music Education at Michigan State University. While at Michigan State University he studied music education with his primary focus in instrumental music. Mr. Pierson has taught for Holt Public Schools (where he completed his internship), Okemos Public Schools, and Lansing Public Schools. He was also the music director and organist at Grace Lutheran Church (Howell, MI) from 2007 - 2015. Mr. Pierson has extensive experience as a composer and conductor; serving as a guest conductor and guest composer throughout the state of Michigan with his compositions having been performed throughout the United States. He continues to write music of many genres and for any instrumentation.

Course Schedule:
WIHI Concert Winds
WIHI Wind Ensemble
WIHI String Orchestra
IB Music 11th grade
IB Music 12th grade
WIMA 8th grade band
Other duties:
Coordinator, Extended Essay
Instructor, Jazz Ambassadors, WIHI Chamber Strings

Email - Mr. Pierson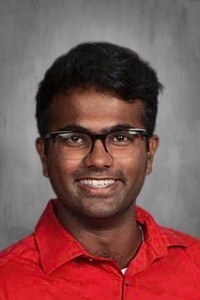 Akash Watsa
Fine Arts Department
Choral Music, Instrumental Music
Akash Watsa teaches choir and band at Washtenaw International High School and Middle Academy. Originally from Troy, Michigan, Mr. Watsa received his bachelor's degree in May 2021 from Central Michigan University. At CMU, Mr. Watsa double majored in music education (instrumental focus) and mathematics, while also completing a minor in instrumental performance.
Mr. Watsa has previously taught for Beaverton Schools as a student teacher, and Romulus Community Schools. He also has extensive experience working with visual performance ensembles, such as marching bands, indoor drumlines, and winter guards. In addition to his work at WIHI and WIMA, Mr. Watsa teaches with Troopers Drum and Bugle Corp, Walled Lake Competitive Marching Band, Walled Lake Percussion, and Troy Athens Guards.
Mr. Watsa is extremely passionate about education and loves working with the incredible students and staff here at Washtenaw International High School and Middle Academy.
Course Schedule:
WIHI Vox Humanas

WIHI Chamber Choir

WIHI Symphonic Band

WIMA 8th grade band

WIMA 7th grade band

WIMA 6th grade band
Other duties:
Jazz Ambassadors, WIHIgh Notes